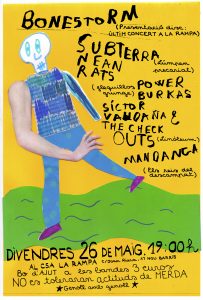 Dissabte 26 de maig a partir de les 19.00 h
BONESTORM
L'última esperança del hardcore melòdic presenta el seu nou K7 i es despedeix per sempre por todo lo alto, aquest cop tocant en divendres i sense telonejar bandes serbo-croates. Imperdible!
https://bonestormvic.bandcamp.com/
Ben acompanyats pels:
SUBTERRANEAN RATS
Oi! brut, primitiu i en patinet
https://www.youtube.com/watch?v=mO-O0sVms4Y

POWER BURKAS
Punk garatger que lo peta des de Vic
https://powerburkas.bandcamp.com/
SÍCTOR VALDAÑA AND THE CHECK THIS OUTS
Punk rock de categoria
https://sictor.bandcamp.com/
MANDANGA!
Punk de descampat
https://mandangabcn.bandcamp.com/
Al CSA La Rampa
C/ Joan Riera 17, Nou Barris
Bo d'ajut a les bandes 3 euros.
Hi haurà menjar vegà i begudes artesanes, els beneficis de la barra es destinaran a donar suport a companyes lluitadores, braç a braç i genoll a genoll!